This month's program sent members to Basics Boot Camp, where we brushed up on basic skills and learned some new tricks as we rotated through five stations. A big thank you to the ladies who shared with our troops!
Our first Guild Challenge yielded stunning results as members depicted the weather in fabric. From Aurora Borealis to the Green Flash, each quilt is a work of art. Congratulations, ladies on a beautiful job!
Business:
Our winter Quilt Show has been postponed until further notice.
Our Raffle Quilt is almost ready to piece together! If you have any blocks left to turn in, please get them to Lise or Joy as quickly as possible.
Members voted to display our modern quilts in the Quiltfest Destination Savannah (GA) show in March. That's plenty of time to finish up your modern beauties to show off. More details to come!
Show &Tell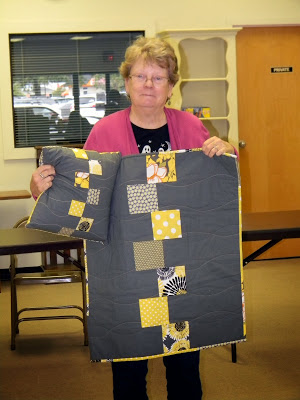 Cathey's sweet matching pillow & quilt.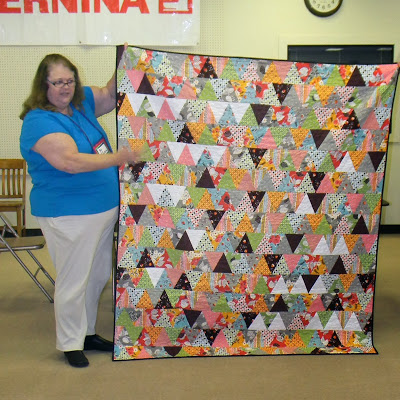 Gwen's "Don't Know If I'm Coming or Going" triangle quilt.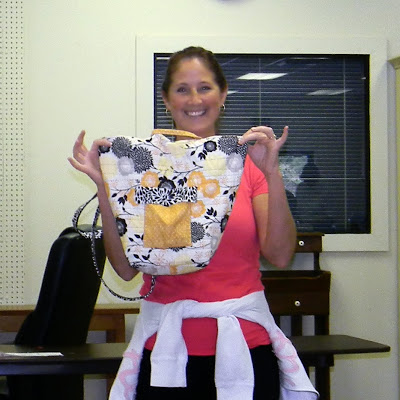 Joy's quilted backpack purse.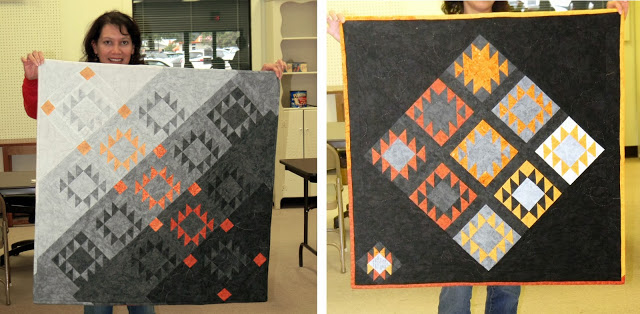 Yvette's two-sided quilt is pretty from any angle!
NEXT MONTH:
~ We'll take a fun break from the holiday rush to play another round of Strip Poker! To participate, bring at least 12 2.5″ strips (x width of fabric). Fabrics must be white plus another color. And save your winnings – we'll be doing something fun with them at January's meeting. 🙂 Here are some pretty examples of white and another color Malinda put together. Black and white are okay, too.
~ November's Block of the Month are Small Tree blocks. For each entry, please make 4 blocks. You can download the pattern HERE.
~November's Swap will be items made with modern holiday fabric. Please WRAP YOUR SWAP ITEMS.
~ The Quilt-Along reveal is finally here! If you swapped strips for the Quilt Along back in March, bring your finished projects to November's meeting so we can applaud your creativity.
Reminders:
~ NICU quilts are being held to display as a group at the December open house. Please continue to bring them in!